Mortgage brokers saw more loan applications convert into offers in the first three months of 2019 than at any time during the last three years, according to the latest Mortgage Market Tracker from the Intermediary Mortgage Lenders Association (IMLA).
IMLA's tracker revealed that brokers were able to convert more than 89% of applications into offers, the highest percentage recorded since the IMLA index began in Q1 2016. This was an increase of almost one percentage point on Q4 2018's numbers, and two percentage points annually. Notably, this was up from 76% in Q1 2016, before the EU Referendum took place.
The share of Buy-To-Let (BTL) and specialist loan applications that led to offers both showed a marked improvement. The tracker found that 89% of BTL applications resulted in an offer, while 91% of specialist applications did the same to reach a three-year high for that part of the market.
Chart 1: Application to Offer success rates for intermediary mortgage business, Q1 2016–Q1 2019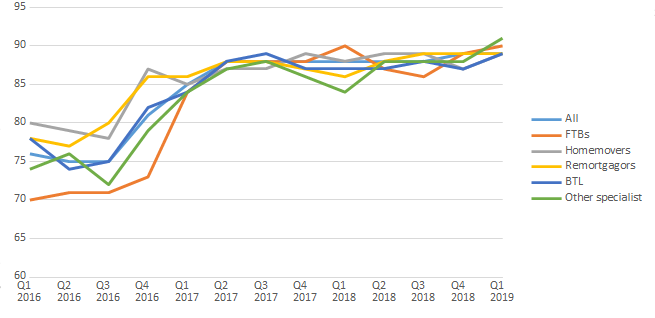 Source: IMLA Mortgage Market Tracker Q1 2019
Specialist mortgages showed healthy improvements
Mortgage brokers reported a healthy flow of specialist mortgages in Q1 2019 (i.e. loans outside of mover, remortgage, First-Time Buyer and BTL products). When asked, brokers revealed that the amount of specialist mortgage applications leading to an offer – and also those offers that led to a completion – were all at three-year highs. The number of completions (56%) for every 100 specialist loan DIPs was up 19 percentage points on Q1 2018's results (37%).
Chart 2: Success rate of specialist mortgage applications, Q1 2016–Q1 2019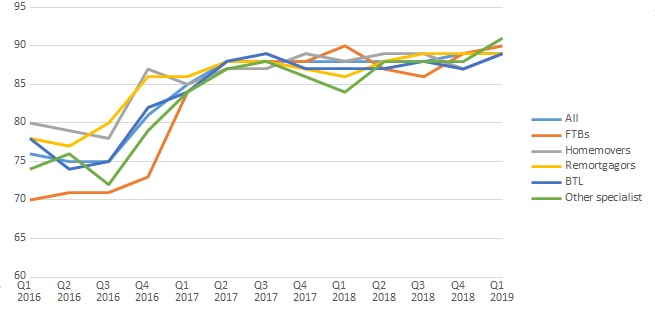 Source: IMLA Mortgage Market Tracker Q1 2019
DIP

s to full applications soar

The IMLA Mortgage Market Tracker also found that the amount of accepted DIPs that go on to full mortgage application have increased significantly on last year.

Overall, accepted DIPs to full applications rose by eight percentage points between Q1 2018 and 2019 (from 76% to 84%), with this measure rising by almost 13 percentage points for FTB loans (from 72% to 84%) and nearly 11 percentage points for specialist loans (from 73% to 83%).
Brexit concerns still linger
Despite brokers' continued ability to successfully place mortgage business for borrowers, the Mortgage Market Tracker found that intermediary confidence continues to dip as brokers wait on Westminster to deliver an update on the UK's Brexit plans.
The percentage of brokers who professed to be "very confident" about their own business prospects continued to drop slightly to 53% in Q1 2019 from a high of 69% in Q4 2016, while those who only feel "fairly confident" rose to 45% from 30% over the same period. Quarterly figures remained steady, indicating Brexit fears are not intensifying as Westminster continues to debate the divorce proceedings.
Chart 3: Business outlook for brokers' own firms, Q1 2016–Q1 2019

Source: IMLA Mortgage Market Tracker Q1 2019
The quarterly IMLA tracker – which uses data from BVA BDRC – examines consumers' success rate in securing a mortgage via the intermediary channel, by tracking their progress from initial expression of interest (seeking a 'decision in principle'1) through to completion. In doing so, it compares the fortunes of first-time buyers, home movers, remortgagors, buy-to-let (BTL) borrowers and applicants for specialist loans.
1 Defined as seeking a 'decision in principle', involving an intermediary/lender taking basic information and performing a credit search and credit score to identify a figure that 'in principle' a customer is able to borrow
Kate Davies, Executive Director of IMLA, comments
"In its recent Mortgages Market Study, the FCA noted that the mortgage market is working well for a large majority of people in the UK – and these tracker results underline that.
"The share of loan applications that brokers are able to turn into offers for customers is at a three-year high, supporting the view that intermediaries are doing an effective job for significant numbers of homebuyers and other mortgage customers.
"It's also encouraging to see the growth of successful specialist mortgage applications. Borrowers who were once perhaps labelled as 'non-prime' have struggled to secure funding since the financial crisis. But the need for quality specialist products has not abated in the last decade, so it's good to see that brokers and lenders are finding ways to secure more loans for these niche borrowers.
"The mortgage market is not immune from the current Brexit chaos – but it's keeping calm and getting on with the business of helping people finance their home purchases. High quality advice will always be important – whatever the state of the economy and the political climate."
---
---
Notes to Editors
Methodology
The IMLA Mortgage Market Tracker uses data provided by BDRC Continental – the UK's largest independent research consultancy – as part of its established Project Mercury, a continuous monitor of intermediary lender marketing effectiveness and broker sentiment since 2007.
The Q1 2019 findings are based on interviews between January and March 2019 with 300 intermediaries who are located in Great Britain, arrange a minimum of 24 mortgages per annum and are not tied wholly to a single lender. Findings are weighted by firm size and type to be representative of the intermediary sector.
Adjustments to the methodology since the pilot edition (Q3 2015) mean comparisons should not be made prior to Q1 2016. Additional adjustments to various stages of the Tracker in Q2 2017 mean that quarterly and yearly comparisons can only be made on the 'application to offer' and 'offer to completion' points in the process.
About IMLA
The Intermediary Mortgage Lenders Association (IMLA) is the trade association that represents mortgage lenders who lend to UK consumers and businesses via the broker channel. Its membership of 44 banks, building societies and specialist lenders include 18 of the 20 largest UK mortgage lenders (measured by gross lending) and account for about 90% of mortgage lending (91.6% of balances and 92.8% of gross lending).
To keep up to date about IMLA in the news, our reports and other announcements, follow us on LinkedIn.
---