Nearly three quarters (74%) of first-time buyers' mortgage applications via intermediaries resulted in a completion during Q4 2017, according to the latest Mortgage Market Tracker from the Intermediary Mortgage Lenders Association (IMLA).
This compares with just over half (53%) a year earlier, as first-time buyers benefitted more than any other customer group from improving access to mortgage finance during 2017.
The quarterly IMLA report – which uses data from BDRC – examines consumers' success rate in securing a mortgage via the intermediary channel, by tracking their progress from initial expression of interest (seeking a 'decision in principle') through to completion. In doing so, it compares the fortunes of intermediaries dealing with first-time buyers, homemovers, remortgagors, buy-to-let (BTL) borrowers and applicants for specialist loans.
UK Finance data recently showed that first-time buyer numbers reached a ten-year high in 2017 . IMLA's report suggests that this was helped by nearly nine in ten (88%) applicants securing a mortgage offer in Q4 2017 for the third successive quarter, up from 73% a year earlier. More than four in five (84%) of those offers in Q4 2017 went on to complete, compared to 72% twelve months before.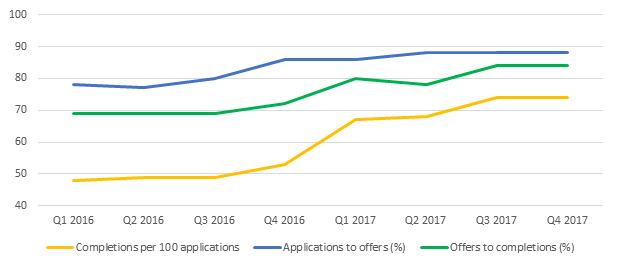 Across 2017 as a whole, 87% of first-time buyer applications resulted in an offer and 81% of those went on to complete: both noticeable improvements on 2016. Overall, it meant that 71% of first-time buyer applicants achieved their aim of securing a mortgage in 2017, compared with just half (50%) in 2016.
Encouragingly, the picture for first-time buyers has improved without a noticeable change to the burden of mortgage repayments they are taking on. In December 2016, UK Finance data shows average first-time buyer mortgage repayments were equivalent to 17.4% of income. This remained largely stable throughout 2017 and actually fell to 17.1% of income in December 2017. The average loan-to-value also reduced slightly from 82.0% in December 2016 to 81.4% at the end of 2017 as first-time buyers' average borrowing remained stable as a proportion of the overall price paid for their homes.
Instead, improving product availability, persistently low interest rates and strong competition between lenders – along with a cooling of house price growth – have all helped first-time buyers' cause, along with the continuation of the Help to Buy equity loan scheme. IMLA's data suggests first time buyers' fortunes have improved more than any category of borrower in the last year.
For every 100 applications, an additional 21 first-time buyers completed on a mortgage in Q4 2017 compared with Q4 2016 (74 vs. 53). The next biggest improvement in terms of access to mortgage finance was among specialist borrowers, with the completion rate rising by 12 from 61 per 100 (Q4 2016) to 73 in the final quarter of 2017.
Homemovers saw the biggest quarterly improvement at the end of 2017 and were the only group to enjoy a greater success rate with mortgage completions in Q4 (77 per 100 applications) than in Q3 (74 per 100).
Despite wider uncertainty in the UK's economic outlook, the improving performance of the mortgage market last year meant that intermediaries have approached the new year with confidence about their prospects for 2018.
Overall, 95% in Q4 2017 were confident about the outlook for the mortgage industry (unchanged year-on-year) while 56% were very confident about the outlook for the intermediary sector in particular – up from 52% a year earlier.
In terms of their own business' activity, nearly two thirds (64%) were very confident about the outlook in Q4 2017, up from 61% at the end of 2016.
Kate Davies, Executive Director of IMLA, comments
"The mortgage market has proved itself to be resilient over the last year and intermediaries have continued to play a vital role in joining the dots between lender supply and consumer demand. In particular, first-time buyers have benefited from widely available and competitively priced deals, even before the extra confidence boost of the Stamp Duty exemption announced in the Autumn Budget.
"It is encouraging to see that mortgage repayments have remained stable even as more first-time buyers make the step up onto the housing ladder. With the Bank of England base rate on a slow upward trajectory, lenders remain firmly focused on rigorous affordability tests so that borrowers do not overstretch themselves to achieve their ambitions.
"At the same time, we need to be mindful that, as the latest English Housing Survey shows, more first-time buyers are opting for loans of 30 years or more . This represents a shift in the dynamics of owning a home compared with previous generations: a fact emphasised by recent warnings from the Institute for Fiscal Studies about the decline of homeownership among younger adults.
"Mortgage lenders can play their part in supporting access for first-time buyers, and our figures show they are clearly doing so. Our improving success in satisfying the finance needs of first-time buyers throws the spotlight onto policy-makers to ensure that pressures on the availability and affordability of housing in the UK do not put young households off applying in the first place."
---
For further information please contact:
Fran Hart / Amy Boekstein, Instinctif Partners
Tel: 0207 427 1400
Email: imla@instinctif.com
---
Notes to Editors
Methodology
The IMLA Mortgage Market Tracker uses data provided by BDRC – the UK's largest independent research consultancy – as part of its established Project Mercury, a continuous monitor of intermediary lender marketing effectiveness and broker sentiment since 2007.
The Q4 2017 findings are based on interviews between September and December with 300 intermediaries who are located in Great Britain, arrange a minimum of 24 mortgages per annum and are not tied wholly to a single lender. Findings are weighted by firm size and type to be representative of the intermediary sector.
Adjustments to the methodology since the pilot edition (Q3 2015) mean comparisons should not be made prior to Q1 2016. Additional adjustments to various stages of the Tracker in Q2 2017 mean that quarterly and yearly comparisons can only be made on the 'application to offer' and 'offer to completion' points in the process.
About IMLA
The Intermediary Mortgage Lenders Association (IMLA) is the trade association that represents mortgage lenders who lend to UK consumers and businesses via the broker channel. Its membership of 46 banks, building societies and specialist lenders include 18 of the 20 largest UK mortgage lenders (measured by gross lending) and account for about 90% of mortgage lending (91.6% of balances and 92.8% of gross lending).
To keep up to date about IMLA in the news, our reports and other announcements, follow us on LinkedIn.
---