Record mortgage affordability is keeping the housing market afloat, but current housing policy needs to be revised to meet homeownership targets according to a new report by the Intermediary Mortgage Lenders Association (IMLA).
The third of IMLA's annual reports – The new 'normal' prospects for 2016: is the march back to a sustainable market on track? – examines trends in the mortgage and housing markets, and the potential impacts of recent policy changes, in order to assess the strength of the post-recession recovery.
Overall, it forecasts a continuing recovery in mortgage lending during 2016 and 2017, with a particular pickup in lending for house purchases by owner-occupiers from an estimated £142bn in 2015 to £155bn in 2016 and £169bn in 2017.
However, reviewing 2015 activity, the report finds that even though mortgage affordability has hit its highest level ever, with buyers spending a record low 8.6% of their income on interest by Q3 2015 and even first time buyers spending only 9.7% by November , first-time buyer numbers have fallen marginally year-on-year , suggesting the government may need to revisit housing policy to successfully increase owner-occupation levels.
IMLA's research shows that as a result of this increased affordability, first time buyer mortgage repayments are lower than average rents in every region of Britain, although this is not yet being translated into the desired increase in homeownership – with factors including deposit affordability issues and tighter lending criteria also having an effect.
Chart 1 – Median mortgage interest payments as a % of income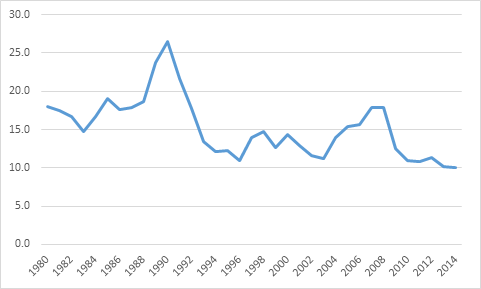 Source: CML
(i. Mortgage availability as measured by the proportion of income that the median home buyer spends on mortgage interest.
ii. CML data shows FTB numbers have fallen from 285,400 in Jan-Nov 2014 to 282,800 in Jan-Nov 2015)
The rise in affordability over the past year has been supported by cheap mortgage deals, alongside rising incomes. Mortgage rates are at record lows – February 2015 saw the average 2 year fixed rate at 75% LTV fall below 2% for the first time and by October the average 2 year fixed rate at 90% LTV slipped below 3% for the first time.
In a trend particularly benefitting first time buyers, the last year has seen high LTV loans become substantially more affordable, with those borrowers opting for higher LTV options facing a smaller marginal cost for borrowing between 75-90% and between 75-95%. IMLA's analysis finds the implied marginal cost of borrowing between 75% and 90% LTV, which was as high as 21.3% in mid-2010, had fallen to 12.9% by the end of 2014 and was only 7.8% by December 2015.
Chart 2 – Average monthly rents and first time buyer mortgage costs (Q3 2015)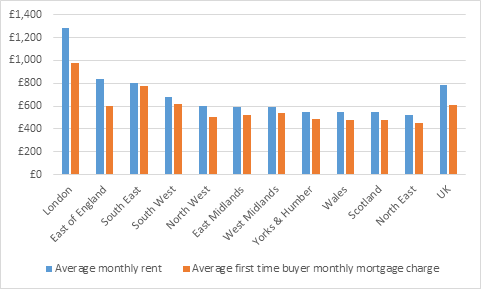 Source: CML and Your Move
However, improving affordability of higher LTV loans in 2015 did not spark a rise in aggregate high LTV lending or the number of first time buyers, which fell back slightly in the year to November 2015 compared to the same period of 2014. Deposit affordability issues and tighter lending criteria mean that not all buyers can access the deals available, even though high LTV loan repayments are now more affordable than ever.
IMLA is concerned that the government's decision to terminate the Help to Buy mortgage guarantee scheme at the end of the year could make it harder for first time buyers, as it may reverse the recent improvements in high LTV loan pricing.
Peter Williams, Executive Director for IMLA, explains:
"Overall lending is steadily improving but there is still a disconnect in the housing market that needs to be fixed if we are to notably improve homeownership levels. Mortgage repayments are more affordable than ever, but the number of people moving into owner-occupation has remained fairly flat – even though paying down a mortgage is now cheaper than paying rent in every region of the UK.
"This points to a problem that is not being adequately addressed – even though there are now many more high LTV deals on offer, saving even a 5% deposit can be a struggle as house prices have risen relative to incomes. This, combined with tighter lending criteria, is preventing any real recovery in homeownership levels.
"The winding up of the Help to Buy mortgage guarantee scheme at the end of this year could remove the buoyancy aid that is record affordability. Great strides were made in 2015 to drastically reduce the price of high LTV loans, but without a form of guarantee in place, lender appetite could sink. The latest BCBS proposals calling for tighter capital requirements could also dampen competition between lenders. Both may limit first-time buyer activity – a slice of the market we should be supporting."
Remortgaging will continue to drive buy-to-let lending growth
IMLA's report also looks at the implications of the government's changes to the buy-to-let sector, and the effects these are likely to have on buy-to-let lending and owner-occupation trends over the next few years.
In a tacit admission that its policy of stimulating new supply has failed to deliver on sufficient scale, government policy is now focused on sustaining levels of owner-occupation through managing demand among buy-to-let landlords and second homeowners, with a number of tax changes underway.
However, IMLA argues that promoting homeownership without sufficient new supply can only succeed at the cost of a diminished social rented sector and a squeezed private rental sector with higher rents for tenants.
The paper suggests the PRS will remain the pressure valve that accommodates most of the increase in population expected over the next few years as landlords continue to respond to rising tenant demand.
Its report forecasts a slower pace of growth for buy-to-let lending in 2016 than in 2015. IMLA anticipates that remortgaging rather than house purchases will continue to drive growth in buy-to-let lending: by November 2015 buy-to-let remortgage lending reached 60% of total buy-to-let lending and 33% of all remortgaging.
Peter Williams, Executive Director for IMLA, concludes:
"Ultimately, a rising population demands more homes regardless of their tenure. No matter how quickly the government can designate land for development, it will still take time to realise these plans and build new homes. All the while the demand for new homes is rising. There are also added complexities to consider, chief of which is making sure new homes are built in the right locations – close to where people work, near the communities people want to be a part of, and with the necessary supporting infrastructure in place.
"The PRS is a vital part of the jigsaw in the UK housing market. Tenant demand is only going to rise as the population increases and we will need landlords to provide the rental properties to satisfy this need. The need for a properly joined-up strategy to meeting housing needs across all tenures in the UK has never been greater."
---
For further information please contact:
Rob Thomas, Director of Research, Instinctif Partners, 020 7 427 1406
Andy Lane / Tora Turton / Maham Uzair / Will Muir, Instinctif Partners, 020 7427 1400 / twc.imla@instinctif.com
---
Notes to Editors
About IMLA
The Intermediary Mortgage Lenders Association (IMLA) is the trade association that represents mortgage lenders who lend to UK consumers and businesses via the broker channel. Its membership of 50 banks, building societies and specialist lenders include 18 of the 20 largest UK mortgage lenders (measured by gross lending) and account for about 90% of mortgage lending (91.6% of balances and 92.8% of gross lending).
To keep up to date about IMLA in the news, our reports and other announcements, follow us on LinkedIn.
---